The smart car mount GP23 is perfect to charge any smart phone and tablet PC by USB power cable.
Dual USB ports for phone and PC charging separately.
The case is suitable for iPad 2 & iPad 3rd generation and iPad 4.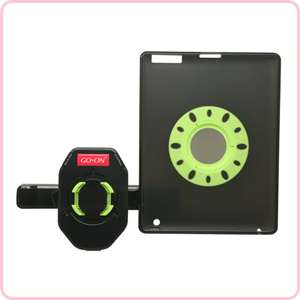 Features:
* Easy installation and dismounting on the car headrest
* Adjust the vertical gradient up/down within 30°
* Panel rotatable to any position within 270°
* Panel removeable as independent case for iPad
* Standard 2.1A current output for iPad recharging
* Standard 1A current output for all phones charging.
* With case suitable for iPad 2 & iPad 3rd generation and iPad 4